2016 Decorating Trends
---
As you know, past trends tend to come back into style. This is why I wasn't surprised after reading Elle Decor's, Home Decor Trends 2016 that almost half of this year's trends mentioned are reflective in my past decorative work! I wanted to share what trends you can be on the look-out for by incorporating my past featured articles and photographs from my 20+ years in the decorating industry into this post.
Big Blousy Florals:
Expect large blousy florals to take center stage. Whether it's an accent chair, sconce design, curtain tie-back, wallpaper, headboard, or rug, "granny" florals are making a major come-back.
This floral accent chair (Far Right) is a great statement piece that not only complements the colors of this room, but perfectly transcends the test of time. However, if I matched the sofa in this floral fabric, it might be a bit too over-powering. Alternatively, if I covered the sofa or chair in smaller, tighter florals, it would be too busy, jarring for the guest, and not as relaxing to sit in. My advice – start with an accent chair. Once the trend goes out of style, it's easy to have it recovered.
House Beautiful 2002
Again, this accent chair (Bottom Left) and/or pillow – paired with a rattan table, would be a great addition in a Sun Room in 2016! While, the curtains in this picture are a bit outdated, they are workable in the right setting.
Connecticut Cottages and Gardens 2005
This floral tufted accent chair effortlessly adds to this room's character! It's also a great example of what big blousy florals look like.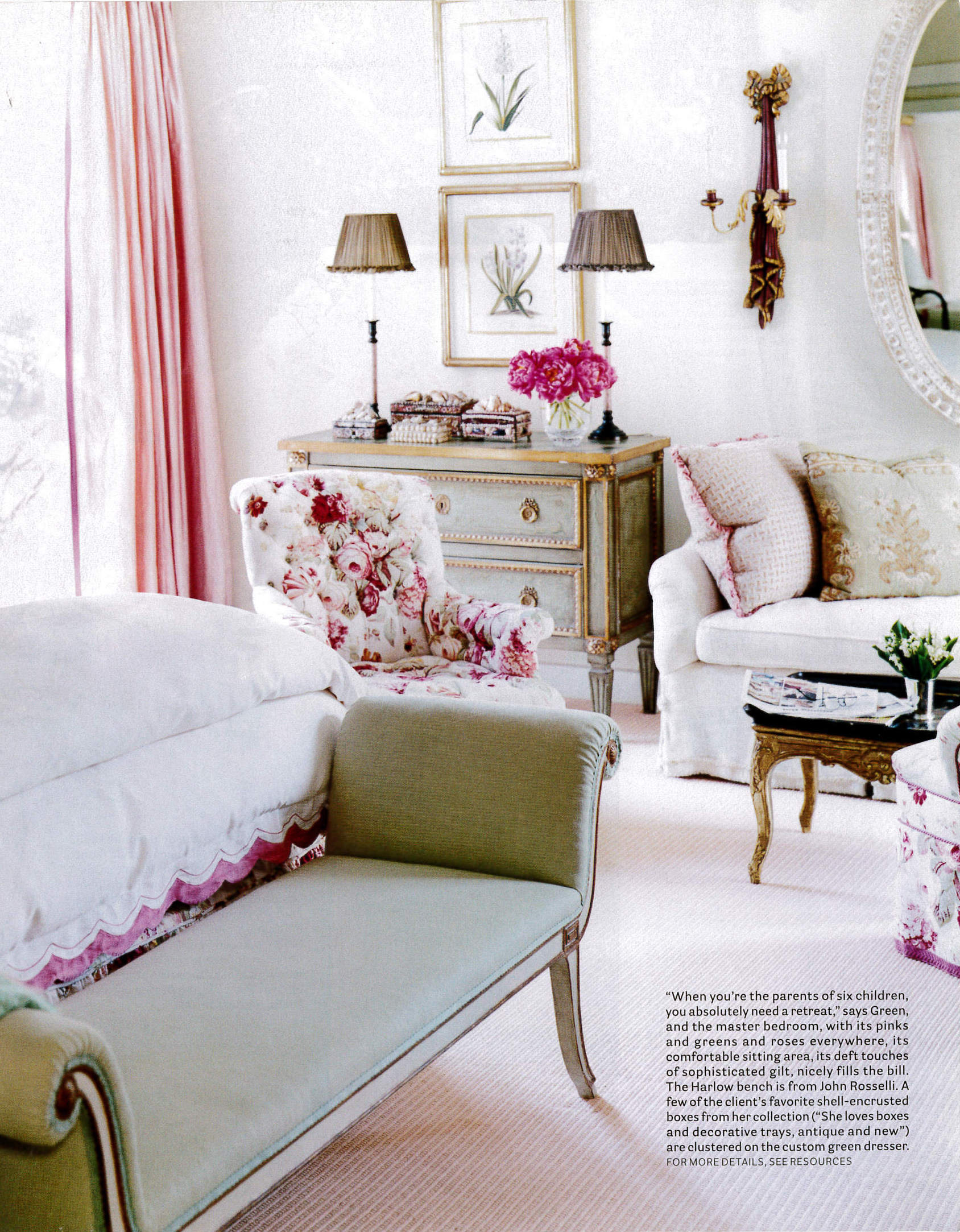 House Beautiful 2008
Formal Dining Rooms:
Over the past few years, with the rise of technology, families have opted out of having a "formal" Dining Room, in favor of creating a more informal and relaxing environment, such as a Media Room. Conversely in 2016, we're seeing a resurgence of tradition, re-incorporating a Formal Dining Room. People are recognizing the importance of real interpersonal communication and the value of quality time without distraction.
House Beautiful 2008
Traditional Home 2007
Fireplaces as the Focal Point:
Fireplaces are meant to draw families together when it's cold, therefore it makes perfect sense that the furniture should be arranged with the fireplace as the central focal point where the entire family can converge.
Connecticut Cottages & Gardens 2013
Technicolor Stripes:
This color palette was once unexpected and exciting. How it's strangely made a come back, I'll never know, but cheers to being ahead of the trend!
Cosmopolitan 1979
Statement Bathroom Mirrors: 
This Bathroom was photographed in Traditional Home 2015 and features a floating mirror, hung with clear fishing wire. Considering this Bathroom is awkwardly situated, this was my only alternative if I wanted a mirror in the Restroom. It truly makes a cohesive statement with the pedestal sink and decorative elements!
Mismatched Kitchen Materials:
If you'll notice in this picture, the center island, cabinets and china cabinet are made up of three different materials. In 2016, home owners will be more inclined to incorporate varying materials, evoking an eclectic, lived-in feel.
House Beautiful 1985
Tech-less Living Rooms: 
According to Houzz.com, families are intentionally excluding televisions from their Living Room designs in an effort to promote conversation, community and engagement instead.
House Beautiful 2008 
Other Notable Trends for 2016: 
Black Stainless Steel Appliances
Heated Floors
Mismatched Kitchen Cabinets
Marble Accents
Bidets
Raffia
Bathrooms that feel like Living Rooms
Matte Finishes