Mirror, Mirror on the Wall ….
---
According to Merriam-Webster a mirror is defined as a polished or smooth surface (as of glass) that forms images by reflection.
I love mirrors – small, medium, large – metal, wood, old, new, you name it! Of course, they reflect images – but they also can enlarge a space, add surprise, grandeur, and can define the room they are used in.
Let's take a look at some of the mirrors I have collected and used in my design work:
This antique wood mirror purchased long ago is adorned with beautiful ivory stars. It sits atop a bow chest in an entry way.  From its reflection you can see the paintings on the opposite wall and the hint of the entrance to the next room.  And the rooster gets to look at itself!
Here again, another star mirror (I love stars – they can make anyone feel so patriotic!) – small and oval in a wooden frame – is placed unusually at the top of the landing – a bit of a surprise when you reach the top and can glance in the mirror reflecting the beautiful bird prints to the side of it.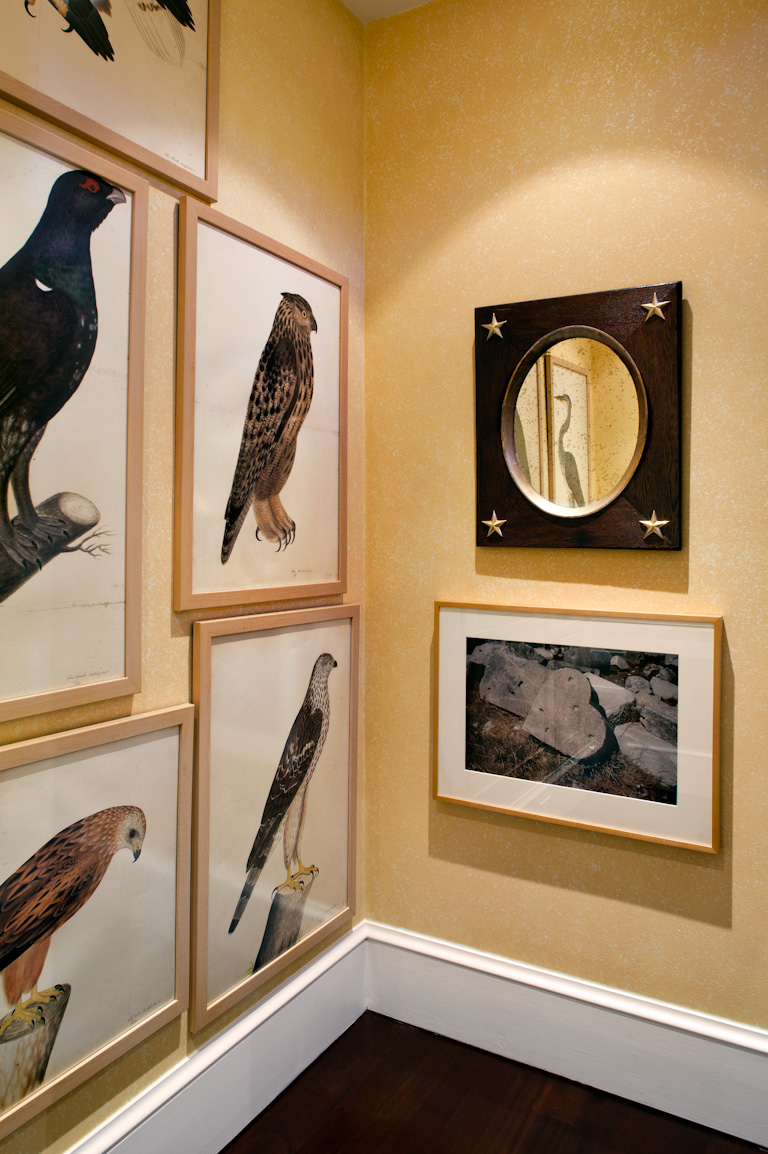 Mirrors can add real drama when they are oversized and of an unexpected shape. Here a pair of antique hand carved mirrors with shell motif and rams' heads at the top flank the entrance of a home in Florida – creating a feeling of grandeur and welcoming you to come in and sit down.
Everyone expects to see a mirror in a bathroom or a powder room. In this powder room in a home in New England, I've added some interest by using one mirror on the wall over the sink, which reflects another over the water closet. The mirror over the sink is an old American mirror with a lovely rustic feel and ivory embellishment, that I found at an auction ages ago.  There are so many things to discover at auctions and tag sales.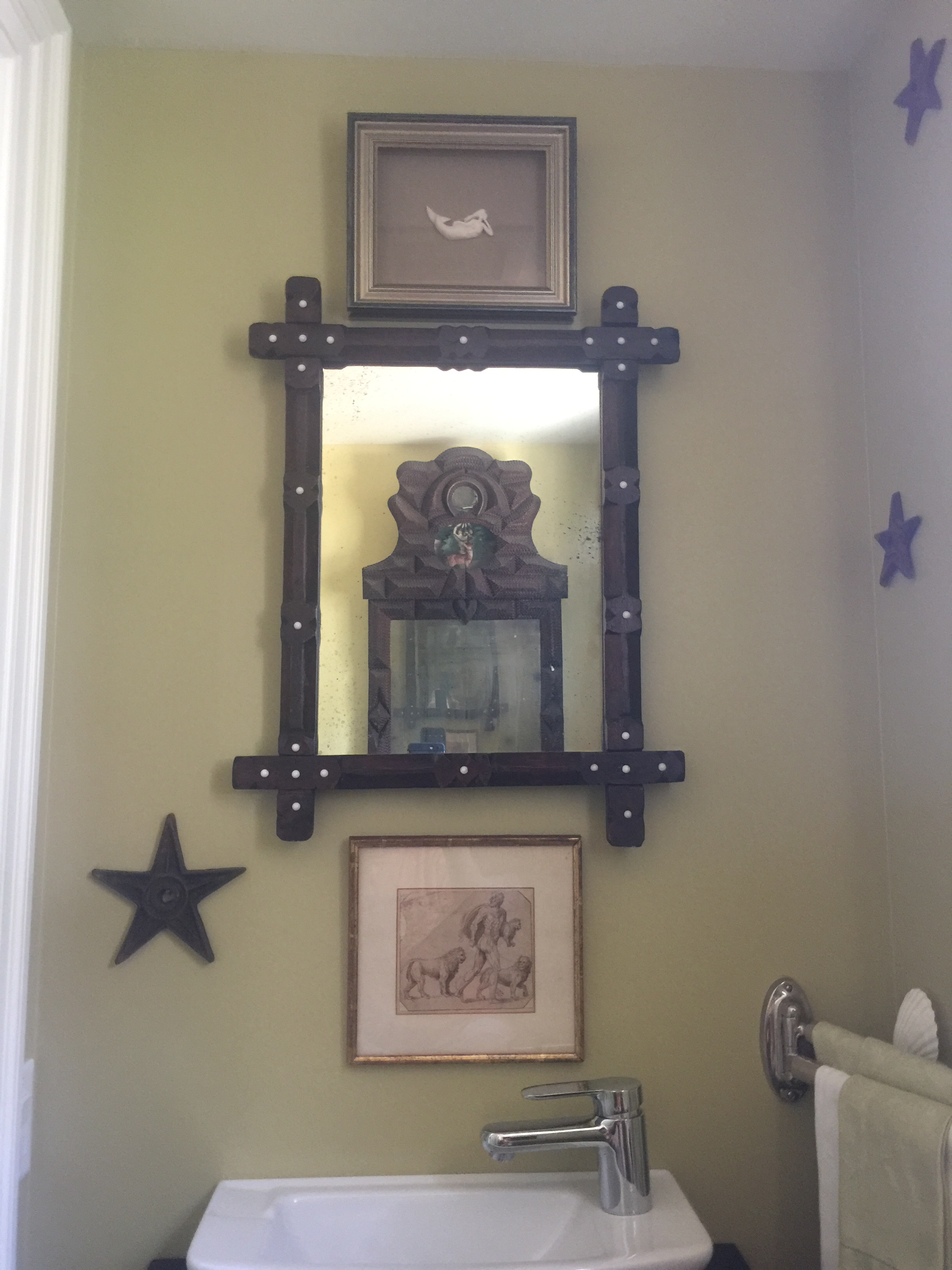 The mirror reflected opposite is an example of American 'tramp art' – an art movement where small pieces of wood, primarily from cigar boxes and shipping crates were carved to create the different geometric shapes. This one has the surprise small deer ensconced in the alcove top of the mirror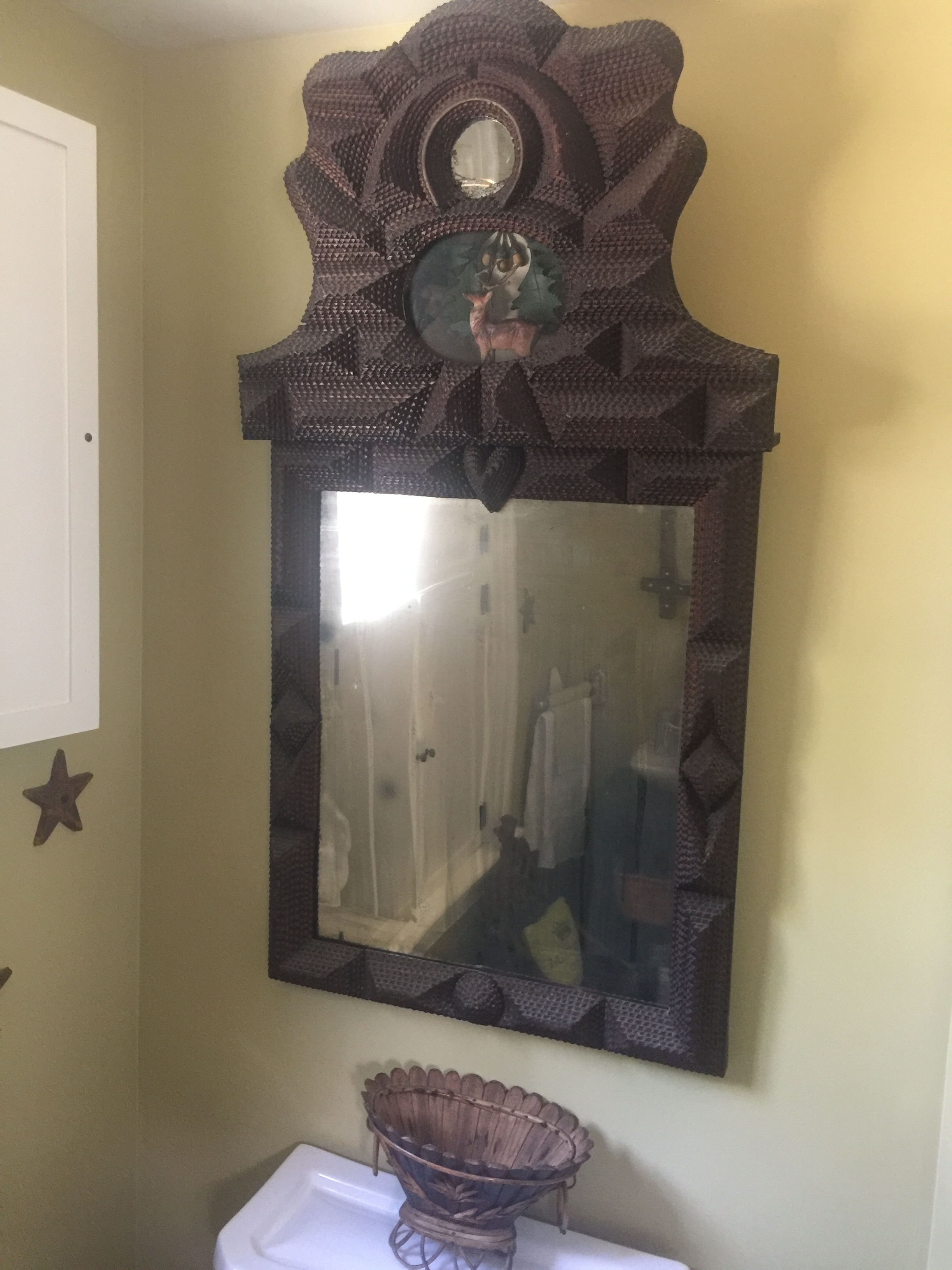 Wherever you find your mirrors – whatever style moves you – enjoy the beauty and ambience they create and reflect!