Pillows – Ah! The Comfort! And More…!
---
When we think of pillows, for many of us our thoughts turn to our beds … Nothing better than sinking into our nice fluffy pillows for a good night's sleep!  But did you know that the first pillows were made of stone?  Can you imagine? (Learn more from the Hankering for History website.) Today pillows can serve many purposes.  They are used for comfort, for decoration, medically – to support our backs.   And of course they come in all shapes and sizes.  Let's take a look at how I have used pillows in interesting places for comfort and decoration.
Who says that a "Euro Square" has to go on a bed?  Case in point is this daybed in a kitchen sitting area mostly utilized by a family with many small grandchildren with sticky fingers … Pillow cases are easier to wash than zippered upholstery style pillows that have to go to the dry cleaners … These pillows stay fresh and crisp with only a washing cycle and a quick ironing job!
Now let's see a daybed that absolutely defines LUXURY!
Here are pillows of every size and shape, soft and luxurious, welcoming you to sink your head and prop your feet and daydream away! The large pillow is black velvet with gold thread embroidery. The two large brown and white rectangular pillows (fabric from Quadrille)  in front of the bolsters are a nice balance and while resting your head on one, you can put your feet up on the other. The bolsters and daybed are covered in de le Cuona fabric.
Pillows can also define the mood and movement of a room with their placement and color. Here below, notice the horizontal vision of three pillows across the bedroom. The pillow on the sofa to the left is a blue and white contemporary stripe, while in the center on the club chair is an English hand blocked chintz fabric on the long horizontal pillow. To the right on the settee in front of the bed is a large inviting pillow of antique English printed material. All the styles are different, but in harmony as the colors are the same. Here is an example of the use of color to create comfort.
Side pillows or bolsters are often included in the sofas we see in Living Rooms and Dens. You needn't have the sofa defined by the obvious …. texture and color add interest as well as additional comfort and can be achieved by adding more throw pillows to your favorite sofa.
I love the mixing of textures and color – here we have a pair of textured, embroidered pillows on each side of the sofa and in the center – a riot of color and texture in a Berlin work needlepoint pillow. Notice how the pillows have the same colors but different forms of texture – behind which is a handmade quilt. Don't you just want to sink in, lean back and relax?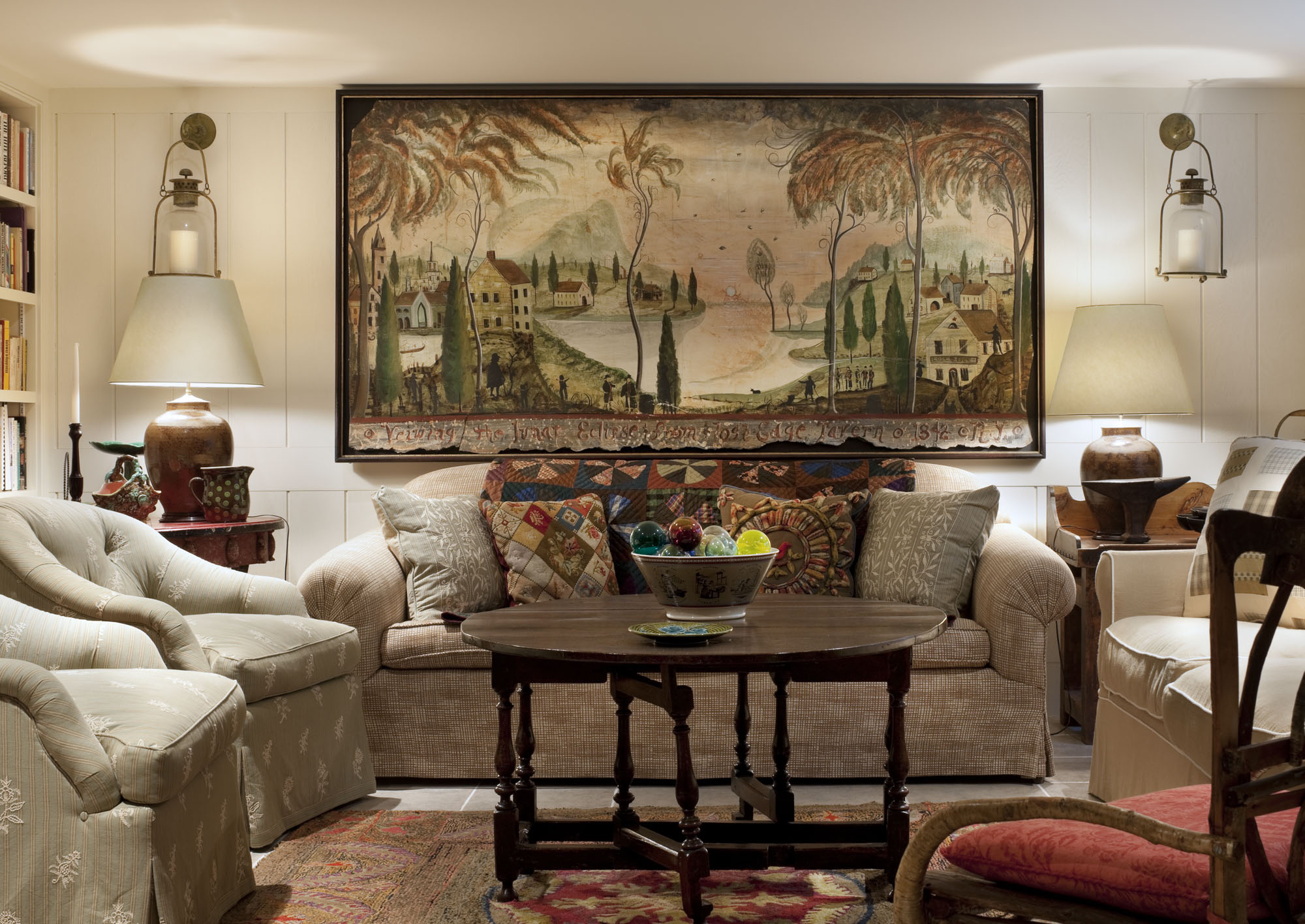 More textures — On each side of this sofa we used round rope design in the nautical theme for a Nantucket home. The long center pillow was made of fabric from Quadrille.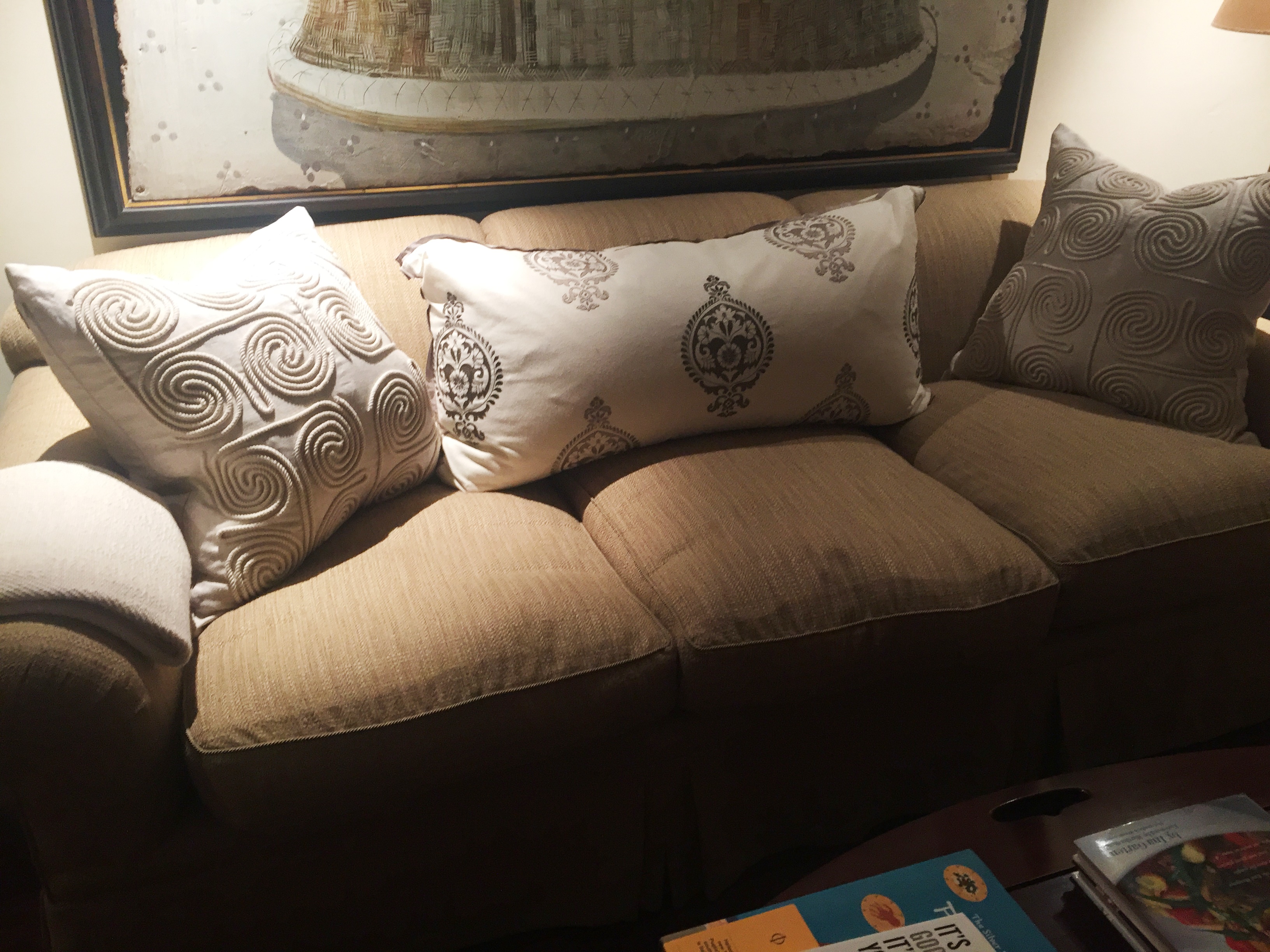 So you see we've come a long way from stone pillows! They can be round, square, rectangular, soft, firm …. but importantly they can be beautiful and comfortable and functional in your home. Sweet dreams!
All designs by Susan Zises Green Inc.